We are a Custom Home Builder & Remodeler for Leander, TX
Building high quality, custom homes in the Leander & Lake Travis, Texas area since 1993.
Silverton Custom Homes is proud to offer its premier custom home building services in majestic Leander Texas.  If you are searching for a community that provides that rare blend of small town life, myriad recreational activities, exemplary education for your kids and a bustling local economy then Leander Texas is where you should build your custom home.
Build your Custom Home in Leander with Silverton Custom Homes
We are a premier, wholly owned family operated business that has been providing top quality award-winning homes for over 25 years. We provide our customers with all the solutions they need under one company. We have an exemplary hands-on design center that can help you with the perfect design for your dream home. We can guide you on all the latest brand-name components and the best materials for your home. We are also partnered with a real estate agency to help you find the right fit in terms of the type of neighborhood you prefer. We provide top quality service that is time-tested and backed up by multiple customer testimonials. Our goal is to provide you with a seamless custom home building experience that fits your budget and concept. Let Silverton Custom Homes make your dream of constructing a home that fits your vision a reality.
Located very conveniently about 25 minutes northwest of busy downtown Austin, Leander is also a leisurely 40 minute drive from Austin Bergstrom International Airport. As a resident of Leander you have the convenience of taking the Capital Metro commuter rail, that transports safely commuters into bustling downtown Austin for work and then back home again in no time at all. Leander has been around for a long time and the local Capital Metro rail station is a homage to the town's humble origins. Leander began in 1882 on a parcel of land that was sold to real estate investors through the Austin and Northwestern Railroad Company. The city was named in honor of Leander "Catfish" Brown, one of the pioneering railroad men that was responsible for completion of the line.
Award Winning Schools and the Best Medical Facilities
Leander is known for its award-winning schools that the Texas Education Agency have recognized as "Exemplary." The district is comprised of 23 elementary schools, seven middle schools, five high school campuses and two alternative schools.  Leander is known as 10th fastest growing district in the US and the noteworthy Leander Independent School District serves several cities including Cedar Park, Jonestown and sections of Northwest Austin. For adults seeking higher education, the University of Texas at Austin and Austin Community Center also serve the city.
Leander offers residents state-of-the-art healthcare such as the Cedar Park Regional Hospital with its 77-bed capacity and offers the full line of inpatient, outpatient, surgical and emergency care services.  You can also find Georgetown Medical Center, Scott & White Hospital and Medical Center and many more.
Nature's Natural Beauty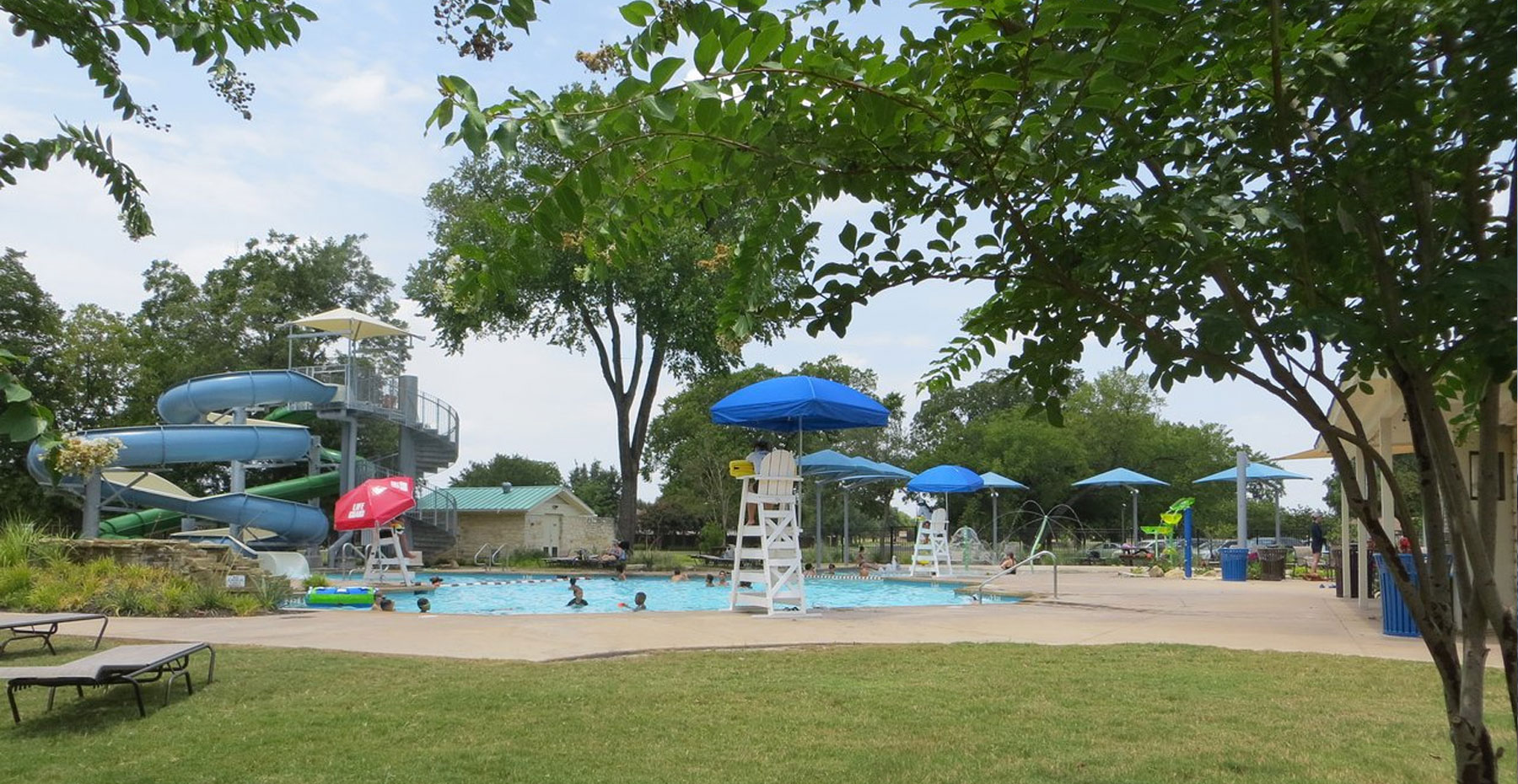 Leander parks offer residents a gorgeous view of nature's natural beauty as the Hill Country is seen in all its glory. You can find over 40 acres of prime real estate that has been set aside for use as soccer and football fields. Lots of scenic bike and hiking trails, a skate park, BMX track, a disc golf course and more.  For people that love the outdoors, there is the Devine Regional Park with its 25-acre lake with non-motorized boating and fun fishing activities from the shore. Residents can also enjoy 46-acres of pristine land for wildlife observation. Dog lovers can enjoy the off-leash section and have fun eating with the family in the picnic areas. Enjoy playing baseball and soccer in the evening at the 16-acre Robin Bledsoe Park plus two new parks in development.
History
The community of Leander was formed in 1882 on land sold by the Austin and Northwestern Railroad Co to possible settlers. It was named in honor of Leander "Catfish" Brown, one of the prominent railroad personalities responsible for completion of the line. Tumlinson Fort, a Texas Ranger outpost was established  4 miles south of Leander in 1836. It was done to protect settlers from Indian raiding parties.  It was eventually burned down by Indians when the Rangers abandoned it to join the Texas Revolution.  It was near Leander where the Leanderthal Lady skeleton was discovered which dated back 10,000-13,000 years. It is considered one of the earliest intact burials discovered in the United States.
Demographics
| | | | |
| --- | --- | --- | --- |
| Statistic | Leander | Texas | National |
| Population | 36,204 | 26,956,435 | 318,558,162 |
| Population density (sq mi) | 1,097 | 97 | 91 |
| Median age | 33.1 | 34.2 | 37.7 |
| Male/Female ratio | 1.0:1 | 1.0:1 | 1.0:1 |
| Married (15yrs & older) | 64% | 56% | 55% |
| Families w/ Kids under 18 | 64% | 48% | 43% |
| Speak English | 85% | 65% | 79% |
| Speak Spanish | 12% | 30% | 13% |
Leander, TX has a population of 36,204 and is the 1,162nd largest city in the United States. The population density is 1,097 per sq mi, which is 1032% higher than the Texas average and 1111% higher than the national average. The median age in Leander is 33, which is approximately 3% lower than the Texas average of 34. In Leander, 64% of the population over 15 years of age are married, 85% speak English and 12% speak Spanish. 54% of Leander residents were born in Texas, 36% were born out of state, 1% were born outside of the United States and 8% were foreign born.
The median age in Leander is 3% lower than Texas.
In Leander 86.15% of the population is White.
 In Leander 4.40% of the population is Black or African American.
In Leander 2.35% of the population is Asian.
Cost of Living
| | | | |
| --- | --- | --- | --- |
| Index | Leander | Texas | National |
| Cost of living index | 102 | 91 | 100 |
| Index | Leander | Texas | National |
| Goods & Services index | 94 | 93 | 100 |
| Groceries index | 92 | 91 | 100 |
| Health care index | 100 | 96 | 100 |
| Housing index | 115 | 83 | 100 |
| Transportation index | 93 | 94 | 100 |
| Utilities index | 111 | 100 | 100 |
In the event that the cost of living data was unavailable for this city, estimates based upon nearby cities were used. Each cost of living index is based on a national average of 100. If the amount is below 100, it is lower than the national average. If the amount is above 100, it is higher than the national average.
The above illustration supplies generalized information for the Leander, TX cost of living index. Compared to other cities in Texas and cities across the country, the cost of living index in Leander, TX is 102, which is 12% higher than the Texas average and 2% higher than that for the entire country. The index is comprised of the following criteria: cost of retail goods and services (33%), groceries (13%), health care (5%), housing (30%), cost of public/private transportation (9%) and utilities (10%). Everyday goods and services, along with housing account for 63 percent of the total cost of living index. Goods and services that are a necessity regardless of location provide an accurate general sense of the cost of living in one city versus another. As seen above, the cost of retail goods and services in Leander, TX are 1% higher than the average for Texas and 6% lower than the rest of the country.
The cost of living in Leander is 12% higher than the Texas average.
The cost of living in Leander is 2% higher than the national average.
The cost of housing in Leander is 15% higher than the national average
Nearby Groceries
HEB
Super Valle Meat Market
Parkers Corner Market
Whole Foods Market 365
Natural Grocers
La Chaparrita Meat & Mexican Market
Trader Joe's
DB World Foods
HEB Plus!
La Adelita Meat Market
Sprouts Farmers Market
Randall's
H Mart
Leander Grocery
Walmart Supercenter
Texas Farmers' Market
Oskis Food Store
Asia Market
Lowe's Market
SLR Grocery & Center
Walgreens
Electrical Company
Gas Company
Atmos Energy
Texas Gas Service
Water Company
Sewer Company
Waste Management Disposal
Central Waste and Recycling
Trash Service / Garbage Collection Company
Cable / Satellite Company
AT&T
Blue Mountain Internet
Cricket Wireless
Sprint
T-Mobile
Straight Talk Wireless
Verizon Wireless
West Central Wireless
DirecTV
Dish Network
Phone Company
Central Texas Telephone Cooperative
GVTC
Hill Country Telephone Co-op
Kerrville Telephone Co
SouthWest Texas Telephone Company
Verizon
Windstream
Schools
The city is served by the Leander Independent School District.
Schools in the city are:
High Schools
Leander High School
Vista Ridge High School
Cedar Park High School
Charles Rouse High School
Van der Grift High School
Tom Glenn High School
Middle Schools
Wiley Middle School (Bernice Knox Wiley Middle School
Leander Middle School
Henry Middle School
Running Brushy Middle School
Cedar Park Middle School
Canyon Ridge Middle School
Elementary Schools
Parkside Elementary School
Pleasant Hill Elementary School
Rutledge Elementary School
Whitestone Elementary School
Jim Plain Elementary School
Block House Creek Elementary School
Places of Worship
Here are some of the places of worship in the city:
Central Baptist Church
First Assembly of God
Good News United Methodist Church
Hill Country Bible Church – Leander
Lake Country Baptist Church
Lakeline Church
Leander Church of Christ
Leander First Assembly of God
Leander United Methodist Church
The Sanctuary
Springs of Grace Community Church
Businesses
The top employers in the city are:
Leander Independent School District
CDN Systems
Cypress Technologies
OSM Technology
JC Evans Construction
Restaurants & Nightlife
Jardin Del Ray —  The food at Jardin is simply amazing.  They offer a reasonably priced menu and fast service. Do try the chicken enchiladas, rice, beans, chalupa taco. Also the tortillas, chips and salsa is not bad at all. The raspberry margarita is amazing.  They also offer an outdoor seating on a covered patio with screens if the weather is not cooperating,
Farm to Fork – One of the best places to have a meal in the city. Do try the turkey breast stuffing, cranberry sauce, gravy and mashed potatoes. The steaks are cooked perfectly and served on  a Texas style wood cutting board. Do also try the chicken fried steak.
Cherry Creek Catfish – Nice seafood place with lots of options, the salads are very fresh too.  The fried catfish, fried crawfish tails and fried green tomatoes are must try items on the menu.  Very reasonable price and good service.
Fun Things to Do in Leander
Leander is at the cusp of some of the biggest attractions in the Texas Hill Country. The Lakeline Mall is located just 8 miles away, the Round Rock Premium Outlet is a mere 10 miles and the Inner Space Caverns and Lake Travis are 10 and 11 miles away respectively.
Parks – The city manages over 400 acres of parkland comprising 14 city owned parks, city-owned building and median landscapes including a public library and a public golf course.
Benbrook Ranch Park and Disc Golf Course – This Park features 3 baseball fields (2 youth, 1 adult), four batting cages, a pavilion for rent, nice trails, skate park, disc golf course, playscape, barbecue grills and restrooms.
Devine Lake Park – This is a 45.5 acre regional park with lots of open spaces for different activities. Allowed lake activities include fishing, non-motorized boating and wildlife observation.
Leander truly is a great place to live.  If you'd like to talk to us about building your custom home here in Leander, Texas give us a call.  We can't wait to meet you.