We are a Custom Home Builder & Remodeler for Westlake, TX
Building high quality, custom homes in the Westlake & Lake Travis, Texas area since 1993.
Silverton Custom Homes is happy to offer its premier custom home building services to the residents of West Lake Hills Texas. Located near Austin and incorporated as an independent suburb in 1953, West Lake Hills offer residents with gorgeous hilly terrain and quiet residential streets. The peaceful serenity of living here makes it feel you are far-off from the hustle and bustle of Austin which is only a mere 6 miles away from this family-friendly and well sought after community. Occupying an area of at least 4 square miles, the city of West Lake Hills or simply West Lake has been able to retain its autonomy even as big Austin has grown up literally around its borders. This is evidenced by some of the lowest property taxes enjoyed by residents in the state of Texas.
What You Can Expect Living Here
The city of West Lake Hills boasts a number of luxury spare-no-expense estates gorgeously perched on the hills overlooking scenic views. There are nine award-winning schools and also a high school football team, the West Lake Chaparrals high school football team that are often in the running for a state title. West Lake High School consistently gets top marks in all levels and ranks among the 100 best high schools in the country according to Newsweek Magazine. It is one of just a few big comprehensive high schools in Texas to be given an exemplary rating and consistently exceeds regional and state standardized test score averages in virtually all categories.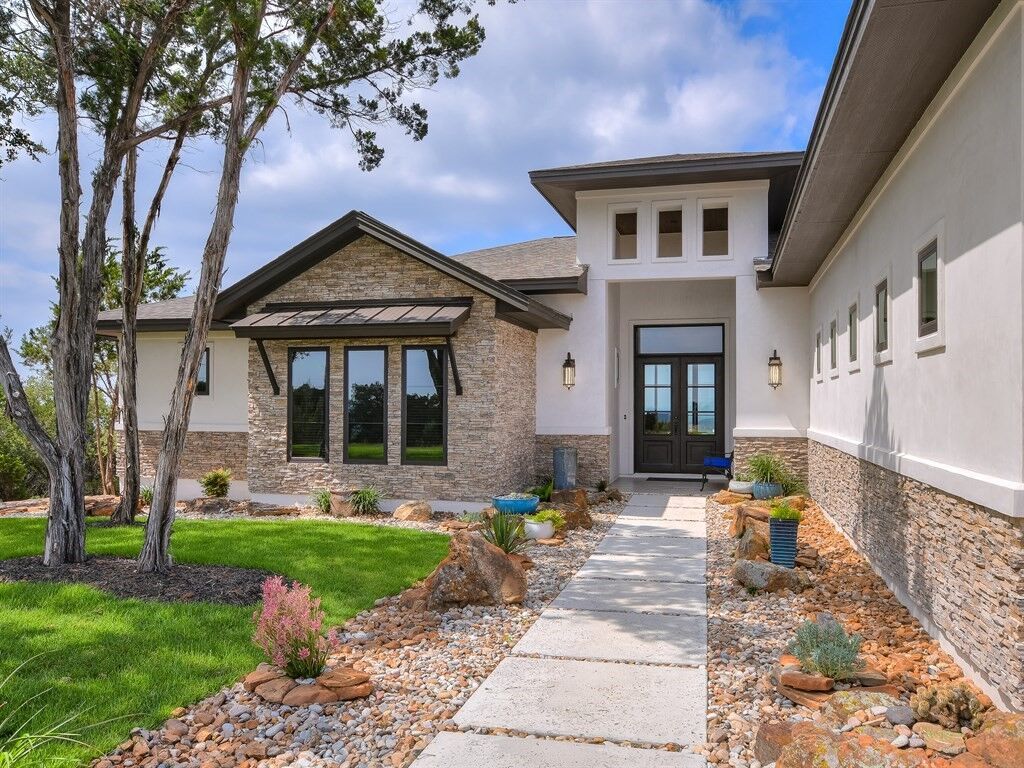 Quality of Life in West Lake Hills
The city is in close proximity to many shopping centers, golf courses and bike trails while being able to maintain a private and secluded ambience that is typical for a luxury community of this level.  The hills just west of the city comprise over 7556 public acres. Most residents of the city enjoy boating, waterskiing, sailing, windsurfing, rowing, fishing, canoeing and swimming in the surrounding lakes.  Many local residents also take advantage of the close proximity to many beautiful natural surroundings like Barton Springs situated in its backyard.  The greenbelt area is very popular for both relaxation and recreation with over 800 acres of protected parkland. The area has many hiking and biking trails and there are centuries-old trees and sheer rock walls to enjoy. The highlight of the area is of course, the popular cold springs. Long renowned as a spot for healing and rejuvenation, Barton Springs is one of the best places to be during a warm summer's day.
Silverton Custom Homes – Making your Vision a Reality
At Silverton Custom Homes we are committed to offer you the highest quality of service you can expect from a 5-star builder. Our team of expert designers, architects and builders are at your complete disposal to make your dream of realizing a gorgeous custom home a reality.  We are known for building multi-million dollar properties where the sky is the limit but we also want you to know that we also do a spectacular job for you regardless of what size or priced home you want to build. Our mission is to make your vision into something real. Be it a home of modest design or a no-expense-spared project, we are certain we can help you realize it. We are here to provide expert assistance to build you a custom home according to your specifications and budget.
When you work with us to build you the home of your dreams, you get one point of contact so you know who to call whenever you have any concerns about the project.  We have developed efficient workflow principles that streamlines the custom home building process in order to save you time and money so we can complete the project according to schedule. We have available home sites here in West Lake Hills for you to consider or if you need assistance looking for the perfect site, we can help you on that too. Let us be a part of your journey to fulfill your vision of building the perfect custom home here in gorgeous West Lake Hills Texas.
History
The city of West Lake Hills achieved incorporation as a city back in September of 1953. Currently, the city is composed of 2,560 acres (4 square miles) with around 40 miles of public streets. The population based on the 2010 census is 3,063 with 1000 properties and 200 businesses.  West Lake Hills is unique in many ways with citizens dedicated to preserving the rural ambience and maintaining the natural beauty of the environment.
Demographics
| | | | |
| --- | --- | --- | --- |
| Statistic | West Lake Hills | Texas | National |
| Population | 3,309 | 28,995,881 | 328,239,523 |
| Population density (sq mi) | 914 | 113 | 91 |
| Median age | 46.5 | 34.2 | 37.7 |
| Male/Female ratio | 0.9:1 | 1.0:1 | 1.0:1 |
| Married (15yrs & older) | 76% | 56% | 55% |
| Families w/ Kids under 18 | 48% | 48% | 43% |
| Speak English | 87% | 65% | 79% |
| Speak Spanish | 7% | 30% | 13% |
74% of the population is Caucasian
03% of the population is African-American
02% of the population is Asian
Cost of Living
| | | | |
| --- | --- | --- | --- |
| Index | West Lake Hills | Texas | National |
| Cost of living | 178 | 91 | 100 |
| Goods & Services | 104 | 95 | 100 |
| Groceries | 93 | 90 | 100 |
| Health care | 107 | 97 | 100 |
| Housing | 362 | 83 | 100 |
| Transportation | 93 | 94 | 100 |
| Utilities | 95 | 102 | 100 |
The cost of living index is based on a national average of 100. For example, if the cost of living is 90, then it is 10% lower than average. If the cost of living is 110, then it is 10% higher than average. The breakdown for each index is as follows: goods & services (33%), groceries (13%), health care (5%), housing (30%), transportation (9%) and utilities (10%). If the cost of living data was unavailable for this city, estimates based upon nearby cities were used.
Nearby Groceries
HEB
Westlake Grocery
Trader Joe's
Randall's
Whole Foods Market
Rabbit Food Grocery
Fresh Plus Grocery
Electric Company
Gas Company
Water Company
Sewer Company
Trash Service/Garbage Collection
Internet Service Provider
AT&T
Spectrum
Sudden Link
Viasat
HughesNet
Grande
Google Fiber
Texas Wireless Internet
Ranch Wireless
Cable/Satellite Company
Phone Company
AT&T
Verizon
USFon, Inc
Media Choice LLC
T-Mobile
Schools
The city of West Lake Hills is currently the only city that is completely covered by the highly-ranked Eanes Independent School District.  The city's residents are zoned to Eanes Elementary School, Bridge Point Elementary School, Barton Creek Elementary School, Cedar Creek Elementary School, Forest Trail Elementary School, Valley View Elementary School, Hill Country Middle School, West Ridge Middle School and West Lake High School.
Places of Worship
Here are some of the places in and around West Lake Hills
Saint Mary Cathedral
Christian Life Austin
Schoenstatt Movement Austin
Westminster Presbyterian
Austin Catholic Parish
Austin Ridge Bible Church
David's Episcopal Church
Luke United Methodist Church
Bannock Baptist Church
Businesses
Top companies/employers in the city include:
University of Texas at Austin
Apple
Dell Technologies
IBM
National Instruments
Nvidia
SailPoint Technologies
Facebook
Silicon Labs
Cirrus Logic
Restaurants & Nightlife
Cava – Cava is the go-to place in West Lake Hills if you are craving for Mediterranean food.  Do try the grain bowl with half-brown rice and half lentils. The chicken meatballs and falafel are also quite amazing.  You can customize and order your bowls to your own personal taste.
Marye's Gourmet Pizza  —  For over 20 years this pizza place has been a local Austin favorite serving traditional gourmet pizzas, salads and sandwiches using only fresh local ingredients.  Customers will love the great tasting crust and non-greasy pizzas. Food is always served hot and fresh.
Sway – Offers an excellent selection of meals that are priced reasonably. Portions are generous and service is excellent.  Highly recommended that you try the salt pepper tofu, Brussel sprouts and the Thai ice cream for dessert. The papaya salad is excellent and offers a summery taste. The fried rice is amazing.   Enjoy lots of wine and cocktails and they serve sake too.
Fun Things to Do in Westlake
West Lake Hills offers residents a lot of recreational and relaxing activities to enjoy.
The Greenbelt — With a multitude of entry points, creeks to cool off and over 12 miles of amazing trails, there is no better way for you to spend a sunny and active afternoon.
Pennybacker Bridge – If you want to gaze at some amazing views of the lake and the downtown skyline, take a short hike up to the overlook of Pennybacker Bridge.
Hit the Golf Course – The city of Westlake Hills is home to a number of fine golf courses located in Barton Creek, Lost Creek and the Austin Country Clubs.
Westlake Hills Texas truly is a great place to live.  If you'd like to talk to us about building your custom home here in Westlake Hills give us a call.  We can't wait to meet you.