We are a Custom Home Builder & Remodeler for Georgetown, TX
Building high quality, custom homes in the Georgetown & Lake Travis, Texas area since 1993.
Located just 30 minutes drive from downtown Austin and 40 minutes to get to the Austin-Bergstrom International Airport, the community of Georgetown is considered by the US Census Bureau as one of the fastest growing areas in the country. It is the perfect place for people looking for a place to call home. It is also one of the most historic and charming communities in Central Texas.
Silverton Custom Homes is a premier family owned custom home builder with over 25 years of experience and a combined 90+ years of Site Builders custom home building experience. We have built numerous homes with classic and timeless designs that encompass all price points. We have built many luxury multi-million dollar properties but we want you to know that we can make an amazing job for you regardless of the size and price of the property that you intend to build. It is our objective here at Silverton Custom Homes to turn your vision of a dream home into a reality.  We have an unwavering commitment to our customers and our formula to do it is very simple: We treat every custom home we build as if it was our own. We can work within your budget and find ways to integrate as many of your needs and wants in order to get the most out of your investment.  Our home builder approach with our customers works like a partnership and we treat our customers as trusted friends with a common vision and goal: To make that dream home a reality.  Let Silverton Custom Homes take you on a guided tour of this beautiful and vibrant community.
Historic, Safe & Friendly Community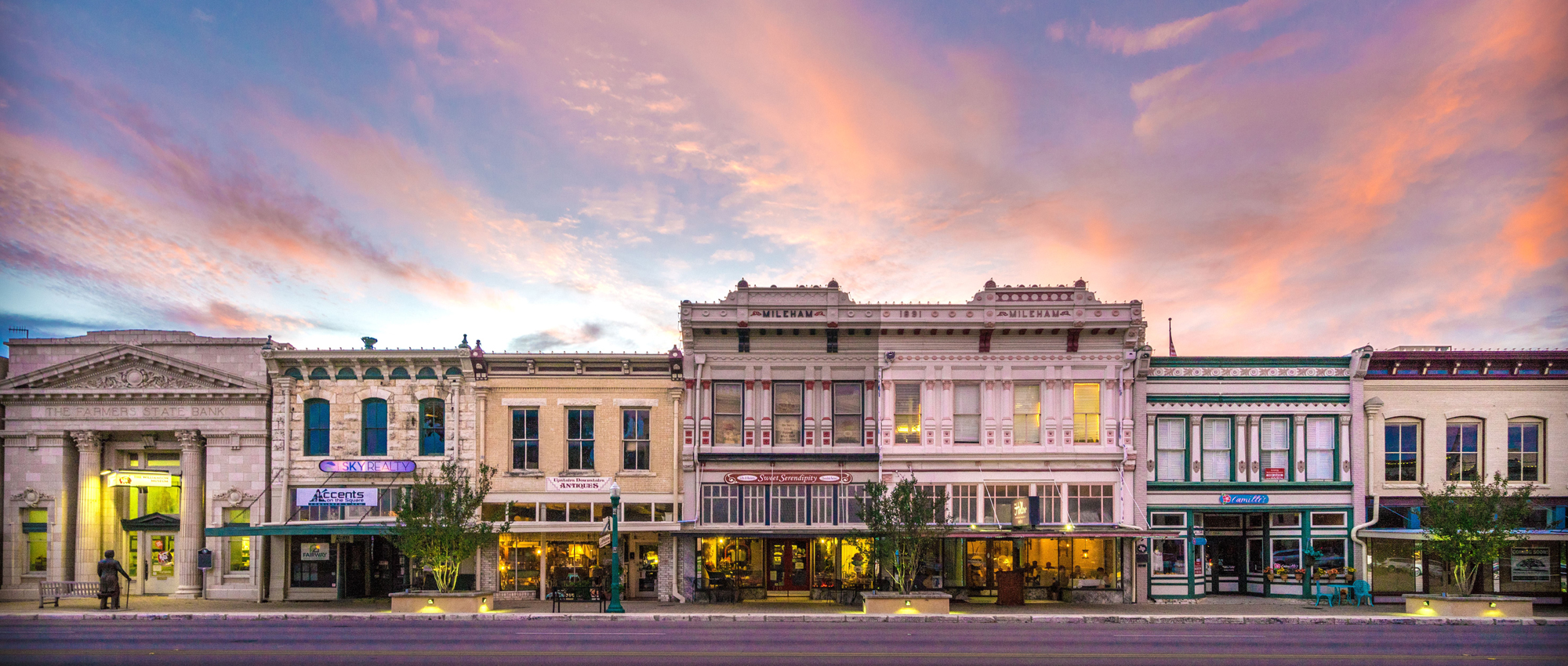 Georgetown ranks high from a national level in terms of safety and community friendliness. The educational system in the community is considered to be one of the finest in the State of Texas.  Sun City Texas, a nationally recognized retirement community was established in 1997 just west of Georgetown. It brought with it three golf courses and world-renowned amenities. The historic downtown area of the city is littered with unique one-of-a-kind stores and restaurants. There are many collectible shops that display the restored and preserved grandeur of Victorian Era structures that were constructed from hewn limestone and feature pressed metal facades and walkway canopies. There is a beautiful Art Deco building façade by the Palace Theater that reminisces the olden days of musicals and local troupes providing entertainment for the residents.
Historic Parks with Modern Amenities
The San Gabriel River provides a beautiful natural setting for the many playing fields and the bike and hiking trails that course through the expansive and historic San Gabriel Park. The trail is unique in the sense that it connects beyond the borders of the park with sections that run through Blue Hole Park, Rivery Park and Lake Georgetown.
Lots of Choices and Excellent Quality of Life
You can find lots of affordably priced properties for sale. If you are looking to design a custom Georgetown property there is a plethora of historic Victorian homes to take inspiration from. There are custom-built luxury estates and ranches on multiple acres of prime real estate.  Enjoy the postcard ready tree-shaded streets adorned with homes painted in historic colors,  accented with bright, red poppies that gracefully adorn the front yards of many residents. The poppy tradition has earned the city the title of "Red Poppy Capital of Texas" by the Texas legislature.
With numerous acres of prime land and a dedicated area for over 30 parks that include modern amenities, Georgetown is a really great place to establish roots. Enjoy the many community centers, swim in the morning or in the afternoon in the many swimming pools, play courts and playscape amenities. Unique offerings include a roller hockey rink, disk golf course, skate park and pits for playing horseshoes and washers. Georgetown is indeed a fun place to stay.
History
Many settlers were attracted to the area due to the abundance of timber and the fresh clean water. Named after George Washington Glasscock, he was the one that donated the land for the new town. The settlers were also attracted to the fertile and cheap land. Georgetown is the county seat of Williamson County, which was established on March 13, 1848. For most of the 19th and 20th centuries, Georgetown was primarily known as an agrarian community. In March 2015, Georgetown announced that their municipal-owned utility, Georgetown Utility Systems, would start purchasing 100% of its power for its customers from wind and solar farms by 2017. This makes the city a completely green-powered community.
Demographics
| | | | |
| --- | --- | --- | --- |
| Statistic | Georgetown | Texas | National |
| Population | 59,436 | 26,956,435 | 318,558,162 |
| Population density (sq mi) | 1,132 | 97 | 91 |
| Median age | 47.0 | 34.2 | 37.7 |
| Male/Female ratio | 0.9:1 | 1.0:1 | 1.0:1 |
| Married (15yrs & older) | 67% | 56% | 55% |
| Families w/ Kids under 18 | 31% | 48% | 43% |
| Speak English | 83% | 65% | 79% |
| Speak Spanish | 14% | 30% | 13% |
Georgetown, TX has a population of 59,436 and is the 656th largest city in the United States. The population density is 1,132 per sq mi which is 1068% higher than the Texas average and 1150% higher than the national average. The median age in Georgetown is 47, which is approximately 37% higher than the Texas average of 34. In Georgetown, 67% of the population over 15 years of age are married, 83% speak English and 14% speak Spanish. 48% of Georgetown residents were born in Texas, 41% were born out of state, 2% were born outside of the United States and 9% were foreign born.
In Georgetown 92.29% of the population is White.
In Georgetown 3.13% of the population is Black or African American.
In Georgetown 0.97% of the population is Asian.
Cost of Living
| | | | |
| --- | --- | --- | --- |
| Index | Georgetown | Texas | National |
| Cost of living index | 102 | 91 | 100 |
| Index | Georgetown | Texas | National |
| Goods & Services index | 94 | 93 | 100 |
| Groceries index | 92 | 91 | 100 |
| Health care index | 100 | 96 | 100 |
| Housing index | 116 | 83 | 100 |
| Transportation index | 93 | 94 | 100 |
| Utilities index | 111 | 100 | 100 |
In the event that the cost of living data was unavailable for this city, estimates based upon nearby cities were used. Each cost of living index is based on a national average of 100. If the amount is below 100, it is lower than the national average. If the amount is above 100, it is higher than the national average.
The cost of living in Georgetown is 13% higher than the Texas average.
The cost of living in Georgetown is 2% higher than the national average.
The cost of housing in Georgetown is 16% higher than the national average.
Nearby Groceries
Randall's
La Plaza Market
HEB
Waltermart Supercenter
Sprouts Farmers Market
Whole Foods Market 365
City Market
Friends Food Mart
H-Mart
Wag-A-Bag Grocery 3
La Adelita Meat Market
T M Food Mart
Electrical Company
Georgetown Utility Systems
Gas Company
Georgetown Utility Systems
Water Company
Georgetown Utility Systems
Sewer Company
Georgetown Utility Systems
Trash Service / Garbage Collection Company
Georgetown Utility Systems
Cable / Satellite Company
Suddenlik
Advanced 1
Cequel Communications
Spectrum
Frontier Communications
SOS Communications LLC
Dcomm Nickys Cabling
DC Satellite
Links Communication Inc
AT&T Store
Verizon Authorized Retailer – GoWireless
Spectrum Cable
Phone Company
T-Mobile
Verizon Authorized Retailer- Cellular
AT&T Store
Suddenlink
iLabs
A-1 Smartphone & Tablet Repair
Schools
The city is served primarily by the Georgetown Independent School District. It is also home to Southwestern University, a private, four year, undergraduate, liberal arts college.  The school was founded in 1873 and is the oldest university in Texas. It is affiliated with the United Methodist Church but the curriculum is non-sectarian. They offer over 40 bachelor degrees in the arts, sciences, music and fine arts as well as interdisciplinary and pre-professional programs.
Places of Worship
Here are some of the places of worship in the city:
Apostolic Lighthouse Church UPC
Calvary Chapel Georgetown
Calvary Christian Center
Faith Lutheran Church
First Presbyterian Church
First United Methodist Church
Gabriel Oaks Church of Christ
Grace Episcopal Church
Grace Fellowship Church
Harvest Baptist Church
Heritage Baptist Church
Main Street Baptist Church
Saint John's United Methodist Church
Businesses
The top employers in the city are: (employees)
Williamson County Government (1,700)
Georgetown Independent School District (1,650)
David's Georgetown Hospital (650)
Airborn, Inc. (550)
City of Georgetown (455)
Southwestern University (450)
Caring Home Health (400)
Wesleyan Homes, Inc. (290)
Sun City (Del Webb) (260)
Restaurants & Nightlife
Blue Corn Harvest Bar & Grill —  The restaurant offers vegan and gluten free menus. The seafood enchilada is a definite must try. It is absolutely excellent, well prepared and served as a stacked enchilada. Service is responsive and quick.  Place is always busy so make reservations ahead of time.
600 Degrees Pizzeria & Drafthouse – Service is reasonably quick and is a loud sports bar type of place. Pizza portions are huge.  Has a pub like ambience to it with a ton of beer on tap.
Tony & Luigi's —  An amazing Italian food place, the eggplant is served fresh and they offer flavorful salads, which were crisp and the dressing superb. Do try the Gorgonzola. The pasta is cooked al dente and the crab cakes are the best in the city. The carbonara  is one of the most popular dishes on the menu. Prices are reasonable and the atmosphere is great for a dinner date.
Fun Things to Do in Georgetown
San Gabriel Park – Jog your stress away at this amazing park located near the point where the north and south forks of the San Gabriel River converge to create a single waterway. It features a 1.6 mile hike-and-bike trail that meanders along the river and there are some areas that are shaded by 200 year old oak trees.
Blue Hole – This is a beautiful swimming hole on the south fork of the San Gabriel River, Blue Hole is surrounded on the north side by limestone bluffs that create a very panoramic backdrop for photos. The water is for the most part cool and slow-moving and you can enjoy a small waterfall created by a low manmade wall just across the river. Admission is free and there is plenty of parking with a restroom onsite but no other amenities available.
Georgetown Art Center – Made out of an old and historic fire station, the Georgetown Art Center is a small gallery that features rotating exhibitions that range from ceramic items to paintings by up-and-coming artists. Many of the artwork at the gallery is for sale and you can find one for almost any budget.  There is a splash pad next door built by the city for the kids. It is free and open to the public.
Georgetown truly is a great place to live.  If you'd like to talk to us about building your custom home here in Georgetown, Texas give us a call.  We can't wait to meet you.