We are a Custom Home Builder & Remodeler for Marble Falls, TX
Building high quality, custom homes in the Marble Falls & Lake Travis, Texas area since 1993.
There are many reasons why people looking for home sites choose Marble Falls TX. Surrounded by gorgeous lakes and the ethereal beauty of the Hill Country, there are many available real estate listings in suburbs to large custom-built estates that come with beautiful views of the lake. Silverton Custom Homes is proud to offer its custom home building services here in beautiful Marble Falls TX.
Silverton Custom Homes is a premier home builder company that can provide you with decades of expertise and top notch customer service at a price that you can afford. We have constructed homes across all price points and we will work with you to ensure things stay in budget and we do our very best to try and accommodate most of your needs and wants. We believe in our customers vision of a dream home and that is why we treat every project as if we were building our own.
When you work with us to fulfill your vision of a dream home you get to access our entire team of experts. Our team of highly experienced builders have a long standing track record of providing high quality homes. Rest assured they will be able to collaborate with you to make your dream a reality.  Aside from the expert craftsmanship of a passionate team, you get to enjoy expert insight into building materials and home features that can have a major impact on your budget and the overall outcome of the project.  Let Silverton Custom Homes be your building partner in Marble Falls TX.
Located in Burnet County, the city of Marble Falls is a quick drive from northwest of Austin and the Austin Bergstrom International Airport is just an hour away. It is at the center of Texas Hill Country where LBJ meets Lake Marble Falls. The city has a steadily growing population and is expected to grow more as the years go by.
Great Schools and Medical Facilities
People looking for home sites to build their custom home would appreciate the many great schools and state-of-the-art medical facilities right here in Marble Falls. The city is served by the Marble Falls Independent School District and currently serves 4000 students from the city and the surrounding areas. The Texas Education Agency has classified the Marble Falls Elementary School, Middle School and Marble Falls High School with a rating of "Academically Acceptable."
The Scott & White Specialty Clinic and Seton Marble Falls Healthcare Center offer both primary and specialized health care services. The Scott & White Hospital also opened back in 2014 providing residents with a 46-bed facility with plans of expanding to accommodate 80 beds.
Great Combination of Shopping, Dining and Entertainment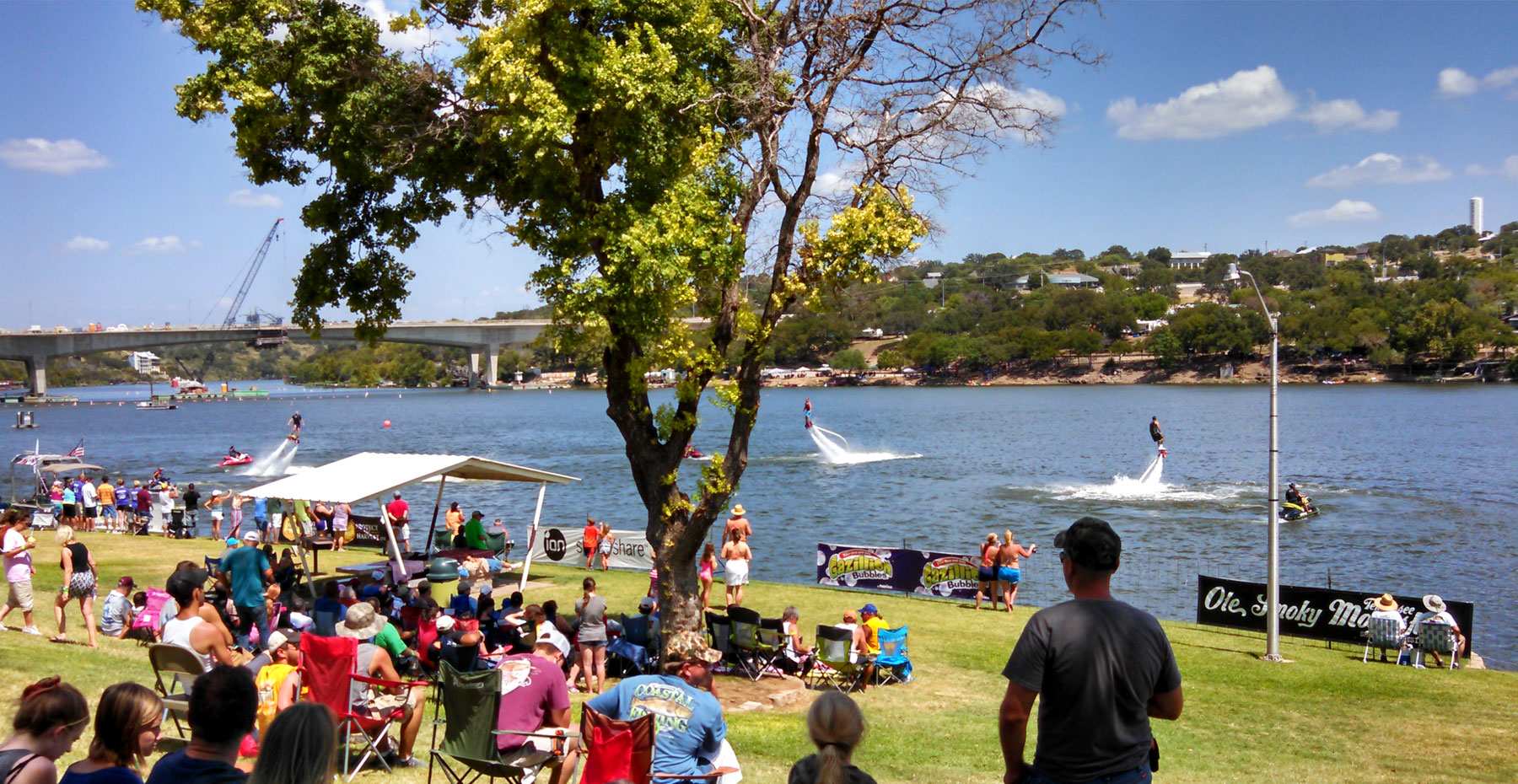 The city also features a nice selection of quality dining establishments that offer guests a serving of down-home comfort meals. You can find a good selection of Tex-Mex, Italian, Chinese, Thai, Japanese and barbecue meals. There are also a good number of bars and taverns. Don't know where to go? Just ask the friendly locals and they will point you in the right direction.
The Main Street area of Marble Falls has many restaurants and shops including a movie theater and a farmer's market serving fresh produce. The city also has a Wal-Mart, Home Depot, Bealls, Lowe's and a HEB. Residents rarely need to venture out as they can find almost everything they need here at home.  You can also check out specialty boutique stores downtown that offer branded clothing, antiques, and furniture and bath items.
For music lovers there are a number of live music venues across town and Marble Falls residents love to show their support for the arts.  Check out the annual " Paint the Town" contest that features an Art fest and also an art auction as well. There are many local wineries that serve delicious wines that are perfect due to Marble Falls moderate climate. The beautiful Hill Country is in full view and as a result many tourists come and visit for the sightseeing.
History
The community was founded in 1887 by Adam Rankin Johnson, a former Confederate General and Indian fighter. He was known as "stovepipe" Johnson for tricking Union soldiers with fake cannons constructed from stove pipes and wagon wheels. During the pre-war days he was able to survey the area around Marble Falls as Burnet County surveyor and had planned on building an industrial city powered by the Colorado River.  After the war and blinded by a "friendly fire" incident he was able to pursue his dream of establishing the community with the construction of a railroad to nearby Granite Mountain in 1884. With ten partners in tow, he platted the townsite and sold lots starting July 12, 1887. He built a home and a college and a large factory near the falls. Marble Falls made history by electing the first woman mayor in Texas in 1917 Ophelia Crosby "Birdie" Harwood, 3 years before women were even allowed to vote.
Demographics
| | | | |
| --- | --- | --- | --- |
| Statistic | Marble Falls | Texas | National |
| Population | 6,167 | 26,956,435 | 318,558,162 |
| Population density (sq mi) | 452 | 97 | 91 |
| Median age | 43.9 | 34.2 | 37.7 |
| Male/Female ratio | 1.0:1 | 1.0:1 | 1.0:1 |
| Married (15yrs & older) | 50% | 56% | 55% |
| Families w/ Kids under 18 | 42% | 48% | 43% |
| Speak English | 76% | 65% | 79% |
| Speak Spanish | 21% | 30% | 13% |
Marble Falls, TX has a population of 6,167 and is the 5,655th largest city in the United States. The population density is 452 per sq mi which is 367% higher than the Texas average and 399% higher than the national average. The median age in Marble Falls is 44 which is approximately 28% higher than the Texas average of 34. In Marble Falls, 50% of the population over 15 years of age are married, 76% speak English and 21% speak Spanish. 66% of Marble Falls residents were born in Texas, 24% were born out of state, 1% were born outside of the United States and 9% were foreign born.
In Marble Falls 89.07% of the population is White.
In Marble Falls 5.32% of the population is Black or African American.
In Marble Falls 2.64% of the population is Asian.
Cost of Living
| | | | |
| --- | --- | --- | --- |
| Index | Marble Falls | Texas | National |
| Cost of living index | 94 | 91 | 100 |
| Index | Marble Falls | Texas | National |
| Goods & Services index | 94 | 93 | 100 |
| Groceries index | 92 | 91 | 100 |
| Health care index | 100 | 96 | 100 |
| Housing index | 88 | 83 | 100 |
| Transportation index | 93 | 94 | 100 |
| Utilities index | 111 | 100 | 100 |
In the event that the cost of living data was unavailable for this city, estimates based upon nearby cities were used. Each cost of living index is based on a national average of 100. If the amount is below 100, it is lower than the national average. If the amount is above 100, it is higher than the national average.
Displayed above is a general overview of the Marble Falls, TX cost of living index. The overall cost of living index in Marble Falls, TX is 94, which is 3% higher than the Texas average and 6% lower than the national average. The cost of living index is created from the following categories: goods/services (33%), groceries (13%), health care (5%), housing (30%), transportation (9%) and utilities (10%). As you can see, goods/services and housing make up the majority of the overall cost of living index. Everyday goods and services can be a good indicator of the general cost of goods in a given city. In this case, the goods and services in Marble Falls, TX are 1% higher than the Texas average and 6% lower than the national average.
Nearby Groceries
HEB
Walmart Supercenter
Texas Elite Meat
Hill Country Health Store
Dollar Tree
Mexicana Meat Market
Big D Food Mart
Bayside Fresh Market
Cracker Barrel Grocery
LBJ Foodmart
Mimi's Market
Spec's Wines, Spirits & Finer Foods
Stripes
Electrical company
Pedernales Electric Cooperative
City Electric Supply Marble Falls
Elliot Electric Supply
Gas Company
4-T Propane, LLC
Pinnacle Propane
Quintx Corporation
Turrentine Oil & Gas Company
Parten Warren
Water Company
Marble Falls Water Department
Sewer Company
Marble Falls Sewer Department
Trash service/garbage Collection Company
Republic Services
Waste Management Marble Falls Hauling
Hill Country Recycling
Waste Connections of Texas
Highland Lakes Recycling
Hook-N-Haul Dumpsters
Quick Trash Inc
Riata Disposal Service
Allied Waste Services
Cable/satellite Company
Northland Communication
Svoboda Satellite LLC
Off Leash TV
Zeeon Wireless Internet
AT&T Store
281 Communication Corporation Inc
Specturm Cable TV & Internet
VIDGO
Cequel Communications
Entropic Communications, Inc
Phone Company
T-Mobile
Northland Communications
AT&T Store
Verizon
Cricket Wireless Authorized Retailer
Sprint
SouthWest Communications
281 Communications Corporation Inc.
Schools
The city is served by the Marble Falls Independent School District, which operates all the public schools as well as Marble Falls High School
Post Secondary Schools
Texas Tech University at Highland Lakes
Central Texas College – Marble Falls
Places of Worship
Here are some of the places of worship in the city:
Anchor of Hope Church
Central Christian Church
Fellowship
Granite Mountain Baptist Church
Andrew Presbyterian Church
John The Evangelist Parish
United Pentecostal Church
Calvary Baptist Church
First Marble Falls
Marble Falls United Methodist Church
Cornerstone Baptist Church
Businesses
The top employers in the city are:
Wal Mart
Baylor Scott & White Health
HEB
Lowe's
Home Depot
Visiting Angels
Camp Champions
Eaton Corporation
Holiday Inn Express
Marble Falls ISD
Restaurants & Nightlife
Noon Spoon Café – The restaurant is a repurposed home with an intimate setup. The food is delicious and fresh.  They offer salads, soups, sandwiches and daily specials.  Do try the Italian Turkey Sandwich with a side salad. Totally amazing. The wait staff are courteous and efficient.
The Real New Orleans Style Restaurant —  All the staff are welcoming and the food is terrific. The shrimp and grits are totally delicious as well as the catfish ponchartrain. Great Cajun food with good portions.  Don't leave without trying the crab cakes.
Doc's Fish Camp & Grill —  Comfortable ambience for the entire family. There is live music and good food. Food served is fresh and hot. The Margaritas are also amazing and the draft beer super cold.  Do try the catfish dinner, which is thinly breaded and perfectly fried.  The large sweet potatoes are done well, fries are well seasoned and the shrimp dinner is terrific.
Fun Things to Do in Marble Falls
Balcones Canyonlands National Wildlife Refuge – The park features mature ash thicket, wide-open grasslands, spring-fed creeks and rugged limestone canyons. The refuge hosts two types of endangered species of birds. There is more than seven miles of wildlife and nature trails that you can enjoy.
Cypress Valley Canopy Tours – There is nothing like the thrill of soaring through the canopy of 100 –foot-tall  old-growth cypress trees using a zip line. Glide between the treetops on five zip lines with the longest measuring 350 feet and traverse two sky bridges on the 90 minute tour.
Flat Creek Estate – A gorgeous award-winning winery sitting on 80-acres of beautiful Hill Country. Check out different varieties of reds and whites in the winery's tasting room and learn more about the winemaking process on the guided tour.
Marble Falls truly is a great place to live.  If you'd like to talk to us about building your custom home here in Marble Falls Texas give us a call.  We can't wait to meet you.